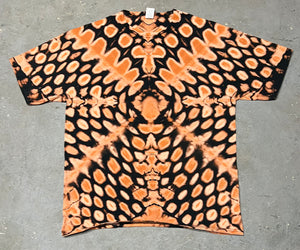 Reverse "Portal" Tee
All of our art and tapestries is original, hand tied and dyed by Maryland artist, Steven Ludwig.  We stand behind our products- welcome to Shine On Nation!
Be a part of where we started, with our original Shine On Dyez Tee!  Our cotton tees are triple washed and cured so that your tee will never fade or shrink.  Check out our fresh colors and unique designs, and get your Shine On!
Bleach dye or reverse dye products are a multi-step, month long process to achieve eye-catching stained-glass results on a black background.  This is a Shine On Dyez "top tier" product that is sure to stand out amongst the crowd! We offer traditional bleach, and re-dyed (color added back) shirts.